Introduction
In the realm of plastic recycling, the Twin-Screw Plastic Extruder/Pelletizer stands as a beacon of advanced technology. This high-speed, co-rotating machine is your all-in-one solution for compounding needs, offering unparalleled reliability even in demanding jobs. Whether you're dealing with plastics laden with fillers, reinforcing fibres, or heat-sensitive additives, this machine is your go-to solution.
Working Principle
The Twin-Screw Plastic Extruder/Pelletizer comes standard with patented Heat Wave Stabilization™ technology. This ensures even heat distribution throughout the barrel, creating an ideal environment for plastic pelletizing. The co-rotating screw shafts blend the molten plastics evenly, further enhancing the quality of the pellets produced. For those with specific needs, counter-rotation extruders are also available.
Technical Specifications

Heat Wave Stabilization: Ensures even heat distribution.
High-Quality Material: Made of blended steel strengthened with gas nitriding technology.
Hydraulic Screen Changer: Allows for continuous operation during screen changes.
Versatility: Can be coupled with a single-screw extruder for better material extruding.
| | | | | |
| --- | --- | --- | --- | --- |
| Model: | Screw Diameter: | L/D: | Driving Motor: | Output: |
| SHJ50/RM120 | ⌀50.2mm / ⌀120mm | 24/48, 7/20 | 37-45 KW / 30-37 KW | 150-300 KG/H |
| SHJ75/RM150 | ⌀62.4mm / ⌀150mm | 24/48, 7/20 | 55-75 KW / 37-45 KW | 150-300 KG/H |
| SHJ75/RM180 | ⌀71mm / ⌀180mm | 24/48, 7/20 | 90-110 KW / 45-55 KW | 300-600 KG/H |
| SHJ95/RM200 | ⌀93mm / ⌀200mm | 24/48, 7/20 | 132-135 KW / 55-75 KW | 500-1,000 KG/H |
Images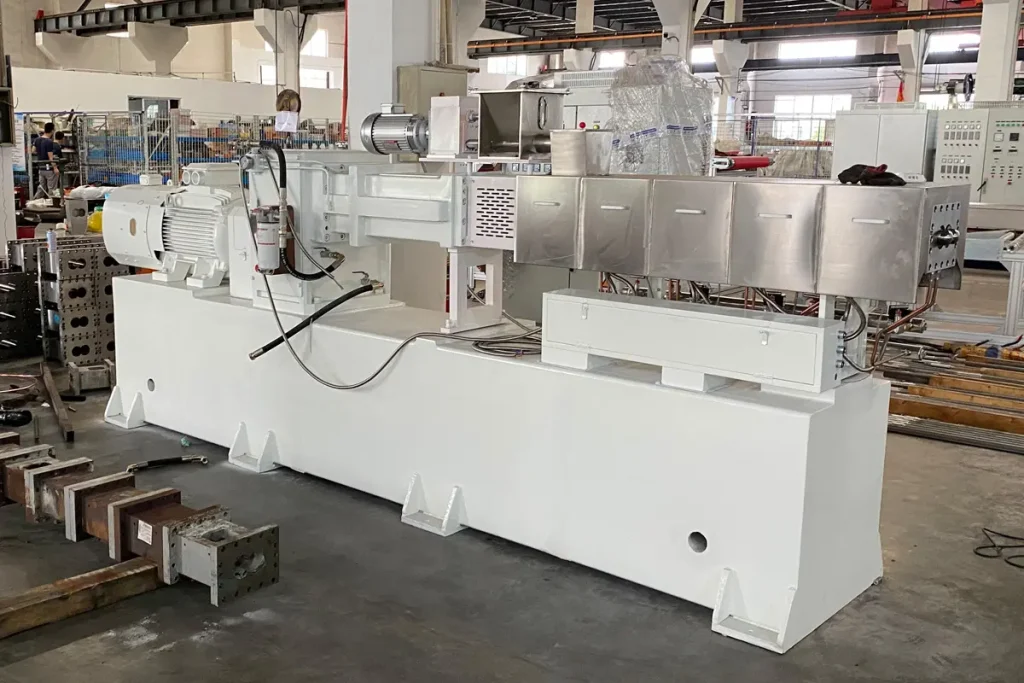 Additional Features
Depending on your pelletizing preference, you can opt for either "melt pelletizing" or "strand pelletizing." Additional components like a water-ring cutter or pellets granulator with a water tank can be added. To further automate the process, a vertical dewatering machine with a blower to a product silo can also be implemented.
Conclusion
The Twin-Screw Plastic Extruder/Pelletizer is not just a machine; it's a comprehensive solution for your plastic recycling needs. With its advanced features and robust build, it doubles the efficiency of your operations, promoting a more sustainable future.
Warranty
All recycling machines come with a 1 year limited warranty.
All of our products can be customized according to customer requirements.
INQUIRIES
To get the latest prices and lead times, send us a message using the form below.